The University of Texas at San Antonio
When Thelma Salazar immigrated to the United States in 1975, she had one goal in mind: to create a better life for herself and the two small children she left behind in her native Guatemala. Though it took her almost a decade, she realized her dream when her children were able to join her, thanks to the compassion and support of her friends and employers, Ann and Glenn Biggs of San Antonio, Texas.
"She wanted so much for her children," recalled Ann, for whom Salazar worked as a housekeeper throughout her 21 years in the United States. "When the children arrived here, we first had to get them into school. Thelma was very interested in their getting a good education."
Though Thelma died of ovarian cancer before getting to see her daughter graduate from The University of Texas at San Antonio in December 2005, her legacy of hard work and dedication to family will live on at the university through a generous scholarship endowment created in 2006 by Glenn Biggs, a longtime member and former chair of the UTSA Development Board. The Ann Biggs/Thelma Salazar Endowed Scholarship for First-Generation Immigrant Children is invested in the Long Term Fund and celebrates two women of very different backgrounds who became good friends during their two-decade association.
"Thelma was more than my employee – she was my friend," says Ann. "She didn't speak English when she came to San Antonio, so I taught her English, and she taught me Spanish. We helped and inspired each other." For Glenn, Ann and Thelma are perfect role models in their own way, and through the endowed scholarship, which is intended for children whose parents are immigrants to the United States, they will be inspiring students at UTSA for many years to come.
As a prominent banker and community leader, Glenn is well versed in the challenges and opportunities that immigration brings to a community like San Antonio.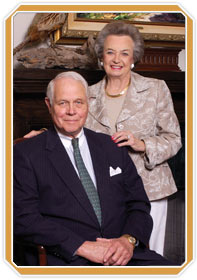 Glenn and Ann Biggs
According to recent statistics, children of immigrants now account for almost 25 percent of all youths in American schools. Although many of the parents come to the United States well educated, "we have a lot of people with limited education immigrating to our area," says Glenn. "We've got to find ways to address the challenges that brings."
Through a generous gift of stock that created the Ann Biggs/Thelma Salazar Endowed Scholarship for First-Generation Immigrant Children, the Biggs family is providing opportunities that will, in perpetuity, make higher education accessible to many students who might not otherwise be able to afford a college degree.
Glenn and Ann agree: "Education is a win-win situation for all of us."