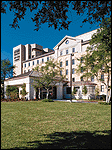 The operating funds of the 15 institutions that comprise the UT System are invested in the STF and ITF funds. These funds are used primarily to fund the institution's operating cycle and long term institutional needs associated with capital programs and financial reserves. UTIMCO offers UT System institutions three investment funds that allow the institutions to match the particular time horizon of their operating funds with the time horizon of each investment fund. Please see the file below:
Intermediate Term Fund - ITF
The Intermediate Term Fund (ITF) was established February 1, 2006, as a replacement for the University of Texas System Short Intermediate Term Fund and the Institutional Index Funds. The ITF is a pooled fund for the collective investment of operating funds and other intermediate and long term funds held by UT System institutions and System Administration. The Fund was created to improve the efficiency of operating funds management and to improve investment returns on UT System operating reserves. The ITF functions as a mutual fund in which each eligible account purchases and redeems ITF units on the first business day of each month at the market value per unit at the time of purchase or redemption. A distribution is paid the first day of each month based on a percentage of each unitholder's prior month beginning balance.
Short Term Fund - STF
The Short Term Fund (STF) is comprised of an investment in the Dreyfus Institutional Preferred Money Market Fund. The STF is utilized for the "overnight" operating funds of the component institutions and is the cash equivalent investment for endowments and other trust funds.