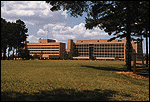 The UT System Separately Invested Funds (SIFs) consist of privately raised endowments and charitable remainder trusts where the nature of the underlying asset or donor restrictions preclude investment in the Long Term Fund. Distributions from SIF endowments support a variety of academic and health programs at UT System institutions.
An endowment is a permanent investment in the future of the University. Endowed funds are invested, rather than used as cash for immediate needs. A portion of the earnings from an endowment is distributed to the University. The remainder is added back into the principal, ensuring steady growth of the endowment. Private endowments are primarily invested in units of the Long Term Fund.
Development staffs at each campus or at the U.T. System are available to assist donors to structure gifts to provide the greatest positive impact to the institution and the donor. To contact a development officer at one of the 15 U.T. System institutions, or at the U.T. System itself, please see our list of institution development offices or contact the U.T. System Office of External Relations.